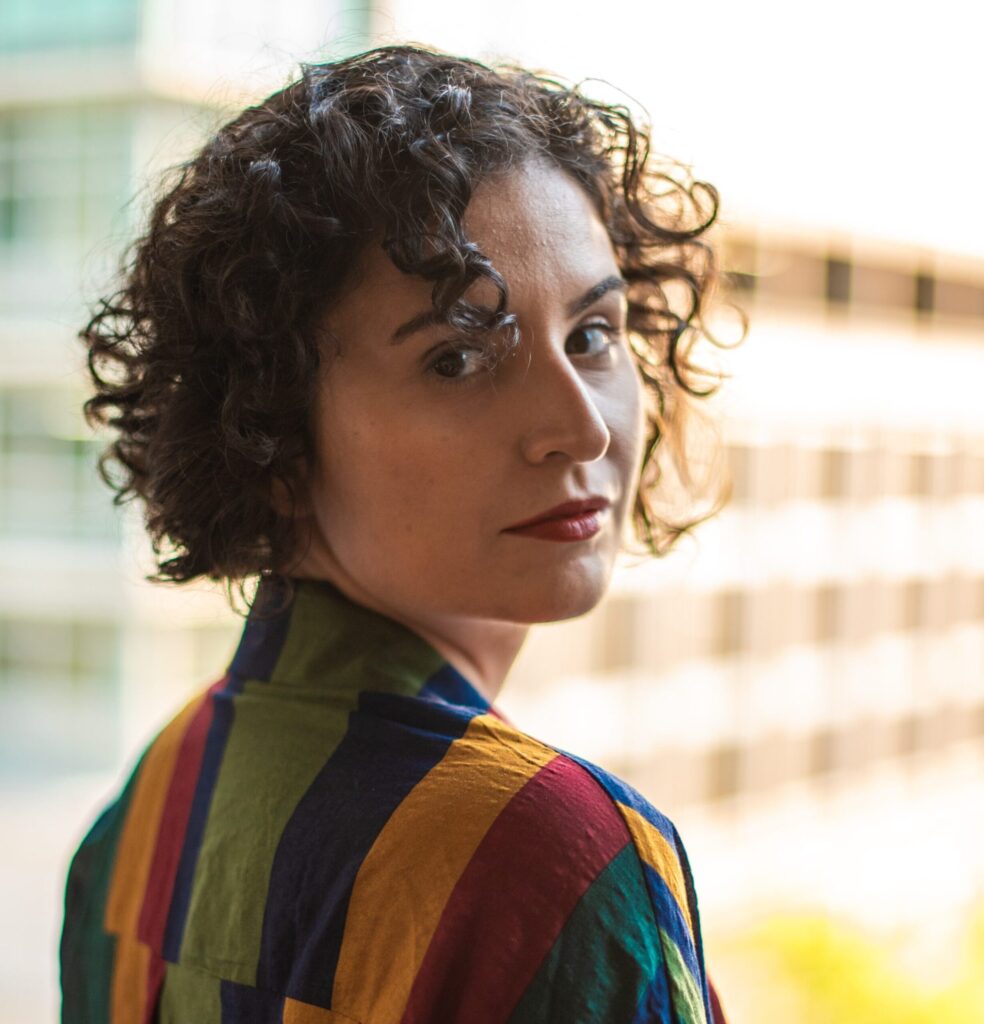 Simone Campos made her literary debut as a 17-year old, with the novella No shopping ("At the Mall", 2000), becoming well-known in Brazil. Then came the novel A feia noite ("Nasty Nights", 2006) and the short story collection Amostragem complexa ("Complex Sampling", 2009). Her interactive novel OWNED – Um novo jogador ("OWNED, a New Player") was published both as a physical book and as a website in 2011. In 2014, she released the novel A vez de morrer ("Time To Die") through Companhia das Letras. Her new novel, a thriller, is called Nada vai acontecer com você ("Nothing Can Hurt You Now"). This book will be published in the UK and the US in February 2023 through Pushkin Press; a production company bought its screen adaptation rights.
Simone was born in Rio in 1983 and currently lives in the same city. She also works as a translator – having translated Paula Hawkins' Girl On the Train and Margaret Atwood's The Testaments into Brazilian Portuguese, among many others –, and has worked as a literary editor.
Published Books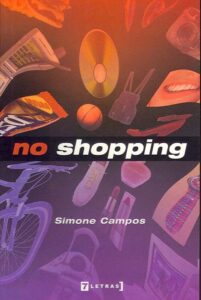 At the Mall / No Shopping (2000) – a novella published by 7Letras (Brazil)
Published when the author was still in high school, this novella made Simone Campos an instant literary sensation in Brazil. This book had a cameo in a Brazilian telenovela by Manoel Carlos, and the author appeared in Jo Soares, the most popular talk show in Brazil, among other appearances. No shopping is an anti-consumerism manifesto with an avant-garde punch and constantly shifting focus, and aesthetics that reviewers have compared to a music video's. Entirely set in a shopping mall, all of its characters are teenagers: the cunning "plastic" centerpiece Delia; her best frenemy Juliana; Delia's childhood friend, Yuri; her male counterpart Victor; and Lino, the outcast drug dealer. Each one of them also becomes a metaphor for geopolitical relationships developing in a global, 21st century world.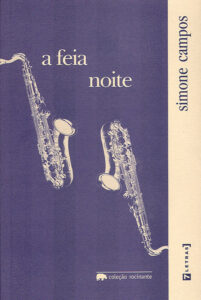 Nasty Nights / A feia noite (2006) – a novel published by 7Letras (Brazil)
Six years later, a new novel in a very different wavelength. Francisco, a 37-year-old political consultant, wakes up with a hangover and a girl at his place – not on his bed, though, but in the spare room instead. Also, apparently, his wife has just left him. He doesn't remember much about last night, so he's left to deal with his new guest – Maria Luiza, a former math wunderkind turning all kinds of tricks. A bold retelling of the Saint Francis and Saint Claire story with strong political undertones.
A short excerpt:
"So throughly Francisco has accepted the fate of his name that now he can't hate it anymore. In the course of his childhood he used to take the most assorted puppies home, only so family court could deny them further stays.
Worse than carrying out your own name's destiny was to shift it into a heavy-handed irony. Maria Luiza simply tore apart any semblance with her well-brought-up-little-miss first name.
¡Puta!. It's filling up his mouth and he's got to say it. ¡Puta!.
It resonates, loud and proud."

Nasty Nights (2006) – translation by Simone Campos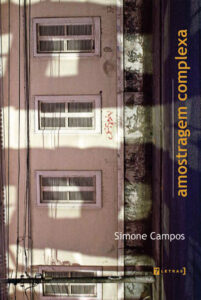 A Complex Sampling / Amostragem complexa (2009) – a short story collection published by 7Letras (Brazil)
Funded by a Petrobras grant for fiction writing, the first short story volume by Campos ranges from the lyrical to the satirical. There's a high school girl who turns into a Japanese mecha when angry; a young white-collar worker who's a voyeur and falls in love with a woman with a hidden bald spot on her head; a young woman who is the only tenant left on her small apartment building and won't accept the lavish offers from the cosmetic surgery clinic next door to sell it; a troubled university student addicted to extinguishing his cigarettes on pretty females' forearms; and a cyborg who uses her built-in wifi to cheat on national public service tests, for her creator's profit.
Awarded with a Petrobras Grant for Fiction Writing (2007)
OWNED – A New Player / OWNED – Um novo jogador (2011) – an interactive novel published by 7Letras (Brazil)
An adult interactive fiction book both in the tradition of  Cortázar's La Rayuela and Steve Jackson's Fighting Fantasy books. André is a big video game fan. As a self-employed computer technician, he starts working for a small company comprised only of beautiful women – who have very different personalities and backgrounds! There's the grad student, the party girl, the aspiring writer, the gamer… By making André's choices on his behalf, you must help him in courting (at least) one of the girls and in finding out a bit about your (his) self. Do you want to be a horrible person or do you want to toe the line? See where this will get you! Very meta, occasionally sexy and frequently funny. Can be made into an app or website – and has! Check out the free Brazilian version of this interactive book at novojogador.com.br.
Awarded with a Petrobras Grant for Fiction Writing (2009)
A short excerpt:
"Hours go by. The day goes by. I call a client back, telling him his computer's ready but had needed an extra part, so the price would be higher than the earlier quote. He does not bitch at all (a rarity); all he says is he'll ring by later.

Right then, Edgar comes in. He prefers tending to the counter. Most clients show up right around this time, lunch time. The sweaty cases won't stop coming off salarymen armpits. Armed with our screwdrivers, we poke into unknown entrails and scare off the evil spirits. We provide quotes. We promise deadlines. After the clients are gone, it's time to consummate. Can't describe, must work."

OWNED, A New Player – novel, 2011 – translated by Simone Campos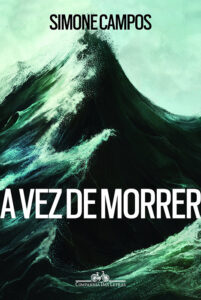 A vez de morrer / Time to Die (2014) – a novel published by Companhia das Letras (Brazil)
Called "a maturity novel" and "a page-turner" by reviewers, this linear, realistic novel follows Izabel, a 24-year-old bisexual graphic designer that comes back from Canada to Rio de Janeiro only to find out skyrocketing housing prices will force her to live at home with her mother, who's not exactly her best friend. She ends up moving to her late grandfather's mountain house in Araras, a short stretch from Rio. Araras is a place of many contrasts, where both celebrities and mobsters go to relax or party; the impoverished locals mostly work as house caretakers and attend Evangelical churches. In this small town there are slums, a Christian rock scene, a web-cafe-cum-video-store, and hedge-sheltered mansions. Middle-class Izabel is caught into the mix and gets involved with both a celebrity couple and Eduardo, a self-made man who is the pride of Araras. The conflicts of women in the workplace and the dating world are addressed and wrapped up at the end, which involves a tentative rape, some revenge porn, and an unexpectedly happy ending. Read an excerpt of this novel in English: The Time To Die_excerpt.
Longlisted for the Oceanos Prize in Brazil
A short excerpt:
"She saw her reflection in the window of the wine shop. Her svelte physique, her erect posture, the way she swung her umbrella as she walked along, without touching the ground. She was the image of her grandfather. The same protruding vein on her forehead, the same look in her eye. Sometimes she glimpsed herself in the mirror in the lift and was taken aback, as if she had been caught unawares by the old man himself."

Time to Die – novel, 2014 – translation by Lisa Shaw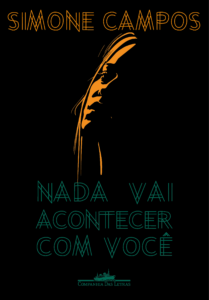 Nothing Can Hurt You Now / Nada vai acontecer com você – published May 2021 by Companhia das Letras (Brazil)
To be published by Pushkin Vertigo in UK and US in 2023.
Lucinda Bocayuva is a 36-year-old TV producer who lives in Rio de Janeiro. When her younger sister, Viviana, goes missing, Lucinda spares no effort to find her. Lucinda ends up learning that Viviana, a model, moonlighted as an escort. Soon Graziane, Viviana's girlfriend and co-worker, joins Lucinda's search party.
Meanwhile, Viviana, held captive, relies on her wits to trick her abductors – a "prince" and his henchman – and learn their true motives, so maybe she can escape to her freedom.
Academic texts
Abstract for Baba Is You: Doing Things With Words at Loading… Magazine. (2021-2). This is the first paper Dr. Simone Campos has published in English.
Baba Is You is a 2D electronic game in which the player-controlled character pushes word-blocks around in order to build sentences, which make up the rules governing the simulated environment. With Baba Is You as the case in point, we bring up parallels between video games and Wolfgang Iser's reader-response theory, J.L. Austin's pragmatics, and Gregory Bateson's levels of learning. By considering self-reference paradoxes, metalanguage, and the map-territory distinction, Baba Is You becomes an intuitive philosophic playground by enticing players to question not only language and its uses, but some general conceptions about not just video games, but life itself.
Keywords: Video games;  Language; Learning; Pragmatics; Metalanguage.
Abstract for Simone Campos' Ph.D. Thesis (Rio de Janeiro State University, 2019) – download it here (in Brazilian Portuguese)
CAMPOS, Simone S. Video games: fictions and philosophical playgrounds?. 2019. 222 f. Tese (Doutorado em Letras) – Instituto de Letras, Universidade do Estado do Rio de Janeiro, Rio de Janeiro, 2019.
This thesis combines methods of comparative literature and literary theory in order to analyze the link between literature and video games. It hypothesizes that video games are fiction, and, as such, they're founded upon a many-centuries old tradition, including rhetorics seen as a combinatorial machine, the carnivalesque, dialogical fiction, and the "speech for speech's sake" in Antiquity's sophistry. This genealogy is validated and justified based on research by Barbara Cassin, Mikhail Bakhtin, and on Plato's, Aristotle's, and Gorgias' works. The thesis also relies on Roger Caillois' and Johan Huizinga's books on games, play and the ludic, authors who have associated these human penchants to the history of culture and many cultural phenomena. It also takes a page from René Girard's theory on mimetic desire/violence as the foundation to human culture. It traces phenomenological parallels between video games and literature by coordinating literary theory tools (such as Wolfgang Iser's reader-response theory) and electronic gaming theories such as Ian Bogost's and Janet Murray's, which regard video games as fundamentally procedural works (i.e., made up of processes). This work contends that the interaction between player and game can and should be analyzed as a cybernetic system. The mental images generated through procedural interaction can have an impact on the mental attitude of a player as much as the reader's mental images do during the reading of literary fiction. This work concludes with a theory about how procedurality and fictional elements are present in social networks, forums and message apps, and discussing what influence video game culture could have had on this current context of fake news, bots, and minorities being persecuted on the Internet and other online meeting places. 
Keywords: Video Games. Procedurality. Reader-Response Theory. Phenomenology. Rhetorics. Sophistry. Carnivalesque Literature. Dialogical Fiction. Logical Reasoning. Perception. Interpersonal Interaction. Social Media. Mimetic Violence. Mimetic Desire. Cybernetics.
Abstract for Simone Campos' Master's Dissertation (Rio de Janeiro State University – UERJ, 2014) – download it here (in Brazilian Portuguese)
CAMPOS, Simone Silva. There's games and games: the play of reading, the game of chess and sanity in Vladimir Nabokov's "The Luzhin defense". 77 f. Dissertação (Mestrado em Teoria de Literatura e Literatura Comparada) – Instituto de Letras, Universidade do Estado do Rio de Janeiro, Rio de Janeiro, 2014.
In Vladimir Nabokov's novel, The Luzhin Defense, published in Russian in 1930, the text beckons the reader on to adopt mental processes similar to a chess player's and a schizophrenic person's – both traits of the novel's title character. This character sees himself both as player and piece of an ongoing game of chess; his expectations and predicaments are traced in parallel to the reader's own as he or she navigates the text. Nabokov's preface to the 1964 English edition is taken as an indication that he tries to shape both an implicit reader and an implicit author. In order to analyze the elements of the text and degrees of mental abstraction involved in this, we refer to Wolfgang Iser's reader-response theory and also many of psychiatrist and ethnologist Gregory Bateson's ideas, such as the double bind, with special regard to map vs. territory and play vs. game distinctions. A "double double bind" is built within the reader-text interplay as follows: 1) the reader is invited to feel empathy for Luzhin's predicament and to regard him at once as sane and insane; and 2) the reader is posited as a pseudo-transcendental instance unable to communicate with his nether instance (Luzhin) in such a way that it brews a feeling of anxiety directly relatable to his or her engagement in the work of fiction, reproducing, in a way, Luzhin's madness. Luzhin's synesthesia is identified as one of the text elements with the ability to recreate the chess-playing experience even to readers who are not fond of the game. The connection between Luzhin's fictional schizophrenia and Bateson's views on alcoholism is analyzed.
Keywords: Chess. The Luzhin Defense. Double bind. Fiction. Game. Schizophrenia. Madness. Suicide. Relationship. Metalanguage. Reader-response theory. Cybernetics. Map and territory. Information theory. Theory of logical types. Game theory. Systems theory. Alcoholism. Ecology of the mind. Iser. Nabokov. Bateson. Caillois. Huizinga. Russell.